The Cashier's Division is responsible for all cash transactions including cash receipts and disbursements. In order to better manage the University Fund, the Cashier's Division is to simplify administrative procedure and to provide qualify service and efficiency in managing the annual fund of 3 billion NTD.
(1) Authorized by law to manage payments, disbursements, deposits, withdraws and balancing of cash, check,
certificates of deposit, and marketable securities in addition to safekeeping related item.
(2) Payments and refund of tuition and miscellaneous fee.
(3) Payrolls, income tax deductions and return filings.
(4) Scholarships, part-time wage, evaluation and lecture fee disbursements, and related tax return filings.
2.Automated cashier operating system:
In order to match up with the progressing policies and computerized condition, and to better manage the university fund, the Cashier's Division has developed nine online cashier systems to replace the DOS and Windows systems. Each of the nine systems fits the need of the university well due to thorough planning beforehand.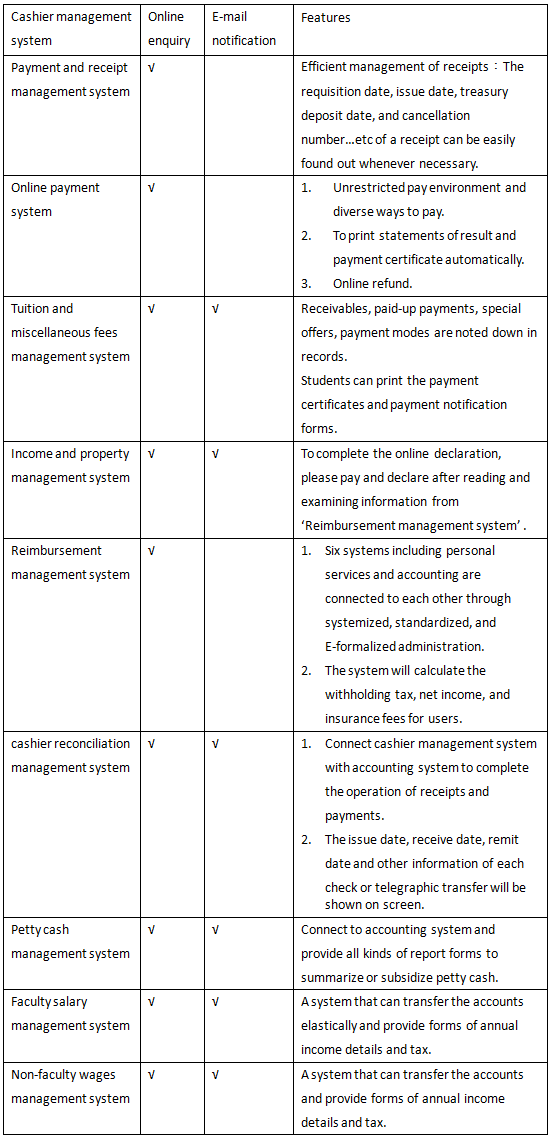 3.To standardize operating system and to implement internal control mechanism:
The internal management of the Cashier's Division utilizes internal control mechanisms with institutionalized operating system. Eight internal control systems were approved by executive council on Nov. 9th, 2013. Every system will be reexamined after actual operation.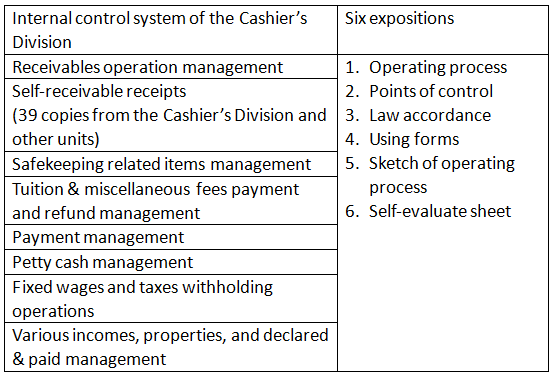 Through the systemized procedure operation, the Cashier's Division can provide exceptional service and quality administrative management.